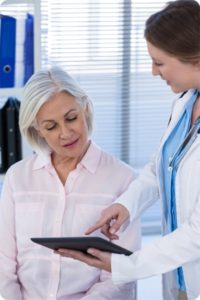 For the second year in a row, we're looking forward to hosting a panel session at the Society for Clinical Data Management Annual Conference. Last year, we gathered four experts, including our own Ben Baumann, for a panel on ePRO. This year, we'll turn our sights on eConsent. Our panelists represent a "who's who" of seasoned professionals in this area. Learn who they are and read all about the issues they'll discuss below. First, take a listen as one panelist, project manager and clinical trial educator Brittany Stark, walks us through the advantages of adopting eConsent and tells us why review boards are likely to embrace it as trial complexity grows.
Brittany on eConsent
Transcript
Hello and welcome from OpenClinica. My name is Bryan Farrow and I'm joined today by my colleague, project manager Brittany Stark. Brittany, may I ask you a few questions about e-consent, the topic of our panel at this year's SCDM conference?
Sure.
Let's start by having you tell us about your clinical research career, especially as it pertains to consent.
Working in the professional services department here in OpenClinica, we get a variety of projects invlving eConsent. Prior to joining OpenClinica, I worked at Beth Israel Deaconess Medical Center in their Cancer Clinical Trials Office, where I worked as a clinical research coordinator, later in the regulatory affairs department, and then as a clinical trial staff educator, all involving different aspects of either the education of informed consent documentation of collection.
Great, thank you. For the sake of brevity, I'll assume our audience is familiar with the basics of econsent and steer our conversation toward the advantages and obstacles associated with it. Let's start with the obstacles. A common one is the anticipated resistance of review boards. Brittany, why might an IRB resist econsent?
Well they're used to paper-based methods with an established precedent.
Fair enough, but why should they consider embracing eConsent?
eConsent has the potential to enhance patient understanding by means of an eLearning experience that is engaging and informative. This can be achieved through the use of graphics, interactive tutorials, videos, or even quizzes tapping into their understanding of the study.
An eConsent form can guide a patient through this experience, step by step, only presenting a signature box at the end of these exercises. Paper-based methods, on the other hand, can allow for corners to be cut.
All that sounds terrific. So why are sponsors sometimes reluctant to adopt econsent?
Here again, there's the weight of tradition. They may also anticipant resistance from local IRBs, which in their eyes could cause delays.
Those are legitimate concerns. What might you say to a sponsor to persuade them to take another look at eConsent?
Sponsor's shouldn't assume that an IRB will reject this method. Simply put, an IRB's priority is patient safety. Patient safety starts with their understanding of the trial and all of the inherent risks involved. As I mentioned before, this is where eConsent can offer more protection through a step-by-step online experience.
Sponsors can achieve tremendous time and cost savings. eConsent eliminates the costs involved in chasing that paper trail, reducing the research team's time involved in the consent process.
eConsent can also provide real time recruitment rates to study sponsors. This is very important when studies cannot risk going over set enrollment goals. Sponsors can also more accurately project future recruitment with this kind of real time reporting.
Based on everything you said, do you think the future of eConsent looks bright?
Absolutely, and I look forward to talking about this more during our panel.
About the Panel
"More Than Checking Boxes: Integrating Electronic Informed Consent in a Compliant and Ethical Way"
a panel session as part of the 2018 SCDM Annual Conference
Tuesday, September 25, 2017 from 11:15am to 12:15pm
Hyatt Regency Bellevue, Seattle
Moderator:
Cal Collins CEO, OpenClinica
Panelists:
John Wilbanks, Sage Bionetworks
Kristen Warren, DxTerity
Kevin Johnson, Intermountain Heart Institute
Brittany Stark, OpenClinica
Vincent Miller, Duke Clinical Research Institute
Sandra Sather, CRF Health
Session overview:
Regulatory authorities have been clear that Informed Consent is a multifaceted process that goes far beyond obtaining a signature. Genuine consent involves providing potential participants with adequate information about the research to allow for an informed decision to participate, facilitating and verifying comprehension of the information, and allowing adequate opportunity for questions and consideration. The process often continues after enrollment. Investigators are frequently obligated to provide additional information to participants as the research progresses, and even obtained informed re-consent.
Electronic informed consent (e-Consent) must accommodate all these requirements. Done well, e-Consent can maximize patient understanding, engage non-English speakers with multilingual tools, improve documentation and reporting, and standardize the consent process across sites, all while reducing cost and administrative burden. Attendees of this session will learn how to determine the suitability of e-Consent in light of a study's setting, participant profile, and indication (among other attributes), as well as the best way to adapt the principles of fully informed consent in its usual, paper-based context to one where the process is electronic.
Learning objectives:
Translate the requirements of informed consent in its usual, paper-based context to one where documentation is electronic
Understand which contexts are suitable for electronic informed consent, which are not, and which allow for a hybrid method
3. Leverage interactive forms and media to improve patient understanding and better document their comprehension and consent
4. Accurately project the time and cost-efficiency gained for a study that relies on e-consent